Integrity and Dedication Yield Better Business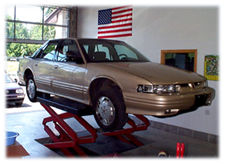 Meriden, CT - Concern for the industry,dedication to a honest and successful business and years of hard work have produced a fruitful business at Denya's Auto Body, Inc. Owners, Bill and his brother Ron Denya are young, energetic and ready to make a difference. Their educated background and their strong commitment to fair business practices enable them to meet the challenges of today's competitive industry.
A Glimpse of the Background
Their industry training was sound. After graduating high school, Bill and Ron entered the Eli Whitney Technical School and learned the auto body repair and paint trade.
In 1984 Bill purchased a commercial building which he transformed into the body shop. In October, 1986, he officially opened Denya's Auto Body, Inc. After 12 years Bill expanded to a 17 bay auto body repair shop.
At the time, Mike Brunt, former owner of Auto Craft, in Branford, CT, and former President of the Auto Body Association of Greater New Haven saw a lot of potential in the Denyas. "It was refreshing to see these sincere young people work together. It gave many of us in the association encouragement to know that they would be an important part of our industry."
"I thought I knew a lot about the body shop business," said Bill. "But after meeting Mike we developed a mentor-intern relationship. Without question he taught us a lot and made us realize the importance of fulfilling our industry worth and responsibilities and he's always there when we need advice and encouragement."
Holding to Standards
Their refusal to lower repair standards is a tremendous asset to the image of their collision repair shop.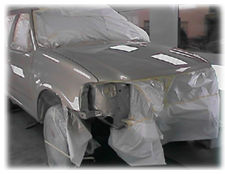 One of the basic business principals at Denya's is the insistence for insurance appraisers to hold themselves to the letter of the law. That is to pay a fair and reasonable amount of repairs and replacements. Their sincerity for a clean and competent industry allows customers, employees, appraisers and even competitors to view them as a couple who is setting a crisp pace.
The Denyas hold their prime strength on the basis of their deep conviction that industry people require skills which should be applied in properly equipped shops and with sound business practices.
Bill pointed out that some shop people, insurance appraisers and even some car owners have the mistaken notion that body repairs and painting can be done in any way, or any price. "They overlook such important factors as quality and safe repairs, and equally important, a sense of pride," he charged.
He added that when it comes to management, any shop operator can get discouraged, including himself. "Many times the paths we take to make sure that the customers are not short-changed by some appraisers can get to be very lonely. When a job is sent to a back-up shop, it can get awfully frustrating. But, when you see the positives after the back-up shop messes up the job, you take such short-comings in your stride. It would be great if all shop people insisted that insurance appraisers fulfill the terms of the policies they sold to their assured. Until that day of emancipation comes, it's difficult to get perfection. So, we do our very best to work for good averages."
The Denyas' Challenges
This question was put before Bill: In your opinion, what areas should industry people try to improve? Here are his answers:
About Competition: "Our main problem is ignorance.The collision repair industry has far too many shop owners and managers who went to the School of Stone Age Estimating. In our industry, our peers are taught key phrases by some insurance appraisers such as free towing, discounts on parts, reduced labor rate, no charge for storage, no charge for bay tie-up..the list almost endless. And sad, but true, some of these shops are held up as referral shops by various insurance industries. What does this lead to? Deception and questionable quality repairs in order to recoup their losses from all the unnecessary freebees. The car owner is the ultimate loser."
About Hourly Rates: "We must stress again that ignorance is a key factor . Our accountant sets our hourly rate - not insurance companies. It's discouraging to hear an insurance appraiser say that the rate they are offering is based on research conducted in our area. How convenient! Despite the fact that we have asked to see this research, we have yet to get a copy. We would like someone to explain why Hack-N-Whack body shop down the street, the one with the dirt floor, out-dated equipment and lack of skills for quality repairs is entitled to the same hourly rate we must have. Our shop has received the I-Car Gold Class designation, is environmentally sound and a fully insured, licensed shop."
About Taxes: "Talk about tax problems? Ask anyone in Connecticut about tax problems, and they'll ask: "Do you have a couple of hours?" First, we have sales tax on parts. Second, we have sales tax on parts and labor if the repair was on a vehicle owned by a business. These taxes were 8 percent. On Oct. 1, 1991, the laws changed again and made the sales tax 6 percent. Yes, they went down. But, we were then given an income tax list of newly taxable items to make up for it and then some, on all parts and labor. Sounds simple, right? Wrong! There is a great conflict as to whether we should be charging sales tax on paint and materials. Some insurance companies pay it. We have called the State Department of Revenue Services three times. We got three different answers! We were recently told, 'It's in litigation'."
Conclusion
When asked what advice they had for other shop operators, the Denya's both responded without hesitation: "Be your own person! Always do the best job that you can do for your customers and the industry. Let's make it an industry we can be proud of!"

| Home | About | Auto Body Repair Services | Location | On-Line Form |



Please feel free to call Denya's at (203) 237-6068
Office Hours are Monday thru Friday 8 AM to 5 PM
Saturdays and Evenings by appointment only.

E-mail us at service@denyasautobody.com
Denya's Auto Body, Inc.
21 Preston Avenue
Meriden, CT 06450
Phone: (203) 237-6068
Fax: (203) 639-0215



Meriden CT Auto Body Repair Shop & Collision Repair in Connecticut
All rights reserved © 1998
Web Design / Development provided by Web Solutions, Inc.